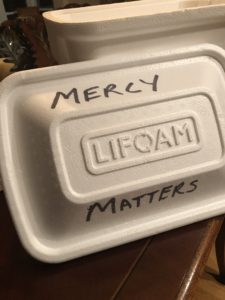 The beautiful thing about giving mercy is thinking about the person who is on the receiving end and what our small acts of kindness can mean to someone else. In my book, Simple Mercies, I share a beautiful act of mercy that my friend, Julie Anna, did while I had been at the hospital all day with a dear friend who died unexpectedly. I will never forget her kindness because it was the only light I saw on that dark day.
She is so thoughtful that it didn't surprise me when I learned that despite being several states away, she was still doing acts of mercy. This time, with a little help from a friend.
This is how Julie Anna does mercy:
Mercy Matters!
Recently, my cousin and her husband traveled from their home in Missouri to MD Anderson Cancer Center in Houston hoping to qualify for a clinical trial for terminal cancer. Some of their friends from Missouri travel internationally teaching about God's healing so they had their friends from WoodsEdge Community Church welcome my cousin to Houston. They visited my cousin and her husband at MD Anderson offering support and prayers for healing. Mercy.
My cousin posts updates to family and friends on the Caring Bridge site with specific prayer requests for a healing miracle for her husband. When I read her post about how the WoodsEdge Church welcomed them I wondered if this was where my close friend, Lesley, who had recently moved from Jacksonville, Florida to Houston, Texas attended church…And it was! A God Moment of Mercy, Not Coincidence.
I reached out to both women to let them know of this "small world" God moment and put them in touch with each other. Both women are amazing prayer warriors and are true inspirations of living/speaking your faith, trusting in God, and sharing it with others.
Lesley wanted to do something in addition to praying to help my cousin. Lesley's 13-year-old daughter, Lindsey, was cooking dinner and told Lesley she wanted my cousin to have a warm meal. Lesley then made the 40-minute drive to MD Anderson, dropped it off at the nurse's station, and drove back home. Mercy Me!
This act of mercy that Lesley and Lindsey made happen brought me peace. It's so hard to be far away from a loved one when they are suffering and not be able to do anything to help. My cousin was so touched that a total stranger would bring her mercy. Lesley is now my cousin's prayer warrior and can be available for them if they need her. Two strangers now connected by God's mercy. Not a coincidence. Just mercy.
Small everyday acts of kindness matter! God's mercy moments matter. I am learning to recognize these moments and thank Him!
PLEASE PRAY for my cousin Stacey and a Healing Miracle for her husband Russ ~ Julie Anna.
Hi, all ~ I love stories like these that have so many connections that could be passed off as coincidence but really have the hand of God all over them. And, I love how Lesley and her daughter, Lindsey, readily stepped in as an act of mercy to the sick and an act of friendship to Julie Anna. The picture above is of the cooler that I found on my dining room table on the day my friend died unexpectedly. I had spent the day pouring out mercy in every way I knew how and I came home and received it. Mercy matters. Giving. Receiving. Simple Mercies. ~ Love, Lara
To purchase Simple Mercies: https://www.amazon.com/Simple-Mercies-Works-Mercy-Fulfillment/dp/1681924536/ref=cm_cr_arp_d_product_top?ie=UTF8 or locally at http://bit.ly/larabooks