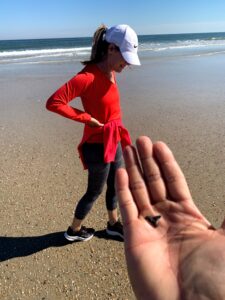 As a teenager, I often went on long walks at the beach with my best friend. I can't tell you what we talked about because I'm sure it was inappropriate and since I am of a certain age, I don't really remember anyway. Going on walks meant we could scout the locations of cute lifeguards we knew or wanted to know. While we had no intention of actually speaking to the bronze boys on the towering orange chairs, or even so much as making eye contact with them, just knowing they were there gave our journey a purposeful feel. Years later, I had no idea I would be walking on that same stretch of sand with my husband while participating in a three-day, thirty-mile pilgrimage from Jacksonville Beach to the Our Lady of La Leche Shrine in St. Augustine.
I had never done a pilgrimage so when I heard about the Baby Steps Camino put on by the Order of Malta, a Catholic lay religious order, I thought that my experiences as a teenager walking past miles of strategically spaced lifeguard chairs gave me the necessary foundation for the 10-mile daily walk.
It felt decadent to cast aside adult responsibilities for a day in the sun. My husband and I prayed the rosary, walked in silence, and talked about all kinds of appropriate things (although I can't remember what they were.) We allowed ourselves to look for the occasional shark's tooth and other treasures in the sand. We paused for a picnic lunch under the glory of the December sun. Most importantly, we pressed on. When we were hot, tired, and when my feet got wet and my toe got bloody, we just kept putting one foot in front of the other.  It's a lot like what we do in life when we remember that our final destination isn't of this world.