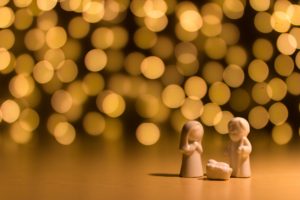 It was Christmas Eve and I couldn't wait for Santa to come.  I am not even sure I believed in Santa at this point in my childhood, but I believed in presents and that was good enough.  I had trouble sleeping, and hearing the rustle of last-minute gift-wrapping upstairs only heightened my anticipation.  During the weeks leading up to Christmas, I prowled the attic, my mom's closet, and any other place I could think to snoop. The idea of being surprised was overrated.  Practically speaking, I could just as easily be surprised by looking inside a plastic bag while standing barefoot on the attic's plywood floor.  I felt certain that I had watched enough television to feign astonishment on Christmas morning.  I even fantasized about my Emmy-award winning performance.  It would be as bright and colorful as the lights on the tree that would spotlight me.
I wasn't sure what I was looking for during all that prowling but that's part of the journey of discovery, right? It's the thrill of seeking, of what could be, — maybe even of finding something better than we imagined. In my case, what I found didn't compare to the curated wares hawked in the Spiegel catalog I carefully perused as a pastime. There was a Tootsie Roll piggy bank filled with chewy chocolate jerky.  Meh.  Fun socks — as if those two words could possibly go together.  Toys that were obviously for my brother.  I certainly had no use for G.I. Joe.  He was too short to use as a suitable partner for Barbie.  Then there were a few miscellaneous clothes that I hoped were for my sister because they weren't quite cute enough for me.
I wanted a fur coat like the one I lovingly pet in the department store inspiring a lecture from my mom on animal cruelty.  What seemed crueler was her begrudging me this accessory that I was certain would make me look as glamorous as Sue Ellen on the Friday-night soap-opera, Dallas.  (If they didn't want children to watch such smut, they should not have run it after an episode of The Dukes of Hazzard).  I would have settled for a rabbit's foot keychain like some of the other girls at my school had.  They were supposed to bring good luck.  Who wouldn't carry around two inches of a dead animal foot in exchange for a little luck?