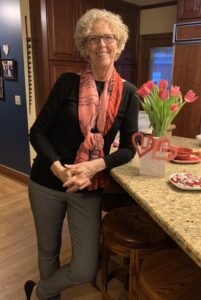 Ruby Greers may be a grandma but she doesn't shy away from a hard fight. And, perhaps it is because she is a grandmother that she works so hard to help eliminate and educate others about sex trafficking.
This is how Ruby does mercy:
I'm especially passionate about educating young people because I saw a quote from a 17-year-old survivor of sex trafficking who said, "How did I not know about this?  Why didn't someone warn me? Had I known, I would have never fallen into this." 
Whether it's sex trafficking or labor trafficking, most people simply don't know much about it or realize how prevalent it is, not to mention how evil it is. It makes me angry that traffickers seek out the most vulnerable people and exploit them. Many people do not realize that pornography fuels sex trafficking and that some of the people "acting" in those videos may actually be victims of sex trafficking who are being forced to perform.
I got angrier when I attended an all-day seminar titled Sex Trafficking in Schools in Florida (How crazy is it that there was a NEED for that seminar?) and learned that traffickers are putting "recruiters" in schools to befriend the most vulnerable, unhappy kids and that the porn industry is targeting six to 10-year-old children by putting "click here" buttons on gaming sites. Many of our 12 grandchildren are in or near that age range and I could just envision the younger ones sounding out "click here" thinking they were going to get more jewels or swords or whatever, and instead getting a pornographic pop-up.   It's just a click away on any device. 
So maybe my efforts to educate people about human trafficking are self-serving in that I'm using some of the energy God gave me to burn off that anger. Or maybe I am trying to protect young people like the grands I love so much.  Or maybe the Holy Spirit has hit me on the head enough times to realize that we are ALL vulnerable when we trust the wrong people and those wrong people see us as money in their pocket.  Whatever the reason, I can't not do it… I can't just walk away from the subject unless traffickers miraculously realize it's terrible to take advantage of other people.  Because as long as there's a demand for paid sex and for cheap goods and labor, there will be human trafficking.  But, God willing, there will also be this grandma educating anyone who is willing to stand still long enough to listen.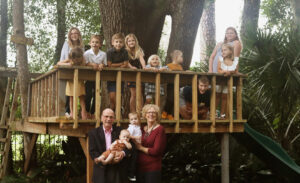 Note from me: One of the reasons I wrote my new book, Simple Mercies, is because oftentimes we fail to recognize the way small acts of kindness can make a difference. For the next few weeks, I'm highlighting simple ways that others are sharing mercy as an organic part of their daily life. If you or someone you know would like to participate in this series, please email me at [email protected] to share your own story of mercy. If you would like to learn more about the ways that mercy can bring peace and fulfillment to your life while answering God's call to serve, preorder Simple Mercies, at this Amazon link or San Marco book store http://Bit.ly/PatanganSMB ~ love, Lara