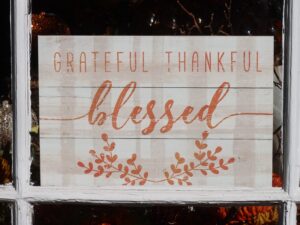 I sat down to write about gratitude and stared at a blank page. I stared out the window. I stared at the cat. I thought of all the ways this year has been hard for me personally and on a global scale. Certainly, there is a lot in between the microcosm of my life and the macrocosm of the pandemic. There has been deaths, unemployment, division, divorce, disease, and depression. And, while those things exist regardless of COVID-19, adding a heaping of quarantines, isolation, mask-wearing, and closures on top of life's inevitable loss has sometimes felt like an overflow of despair.
So, the words don't come easy. The spiral of sobering hardships has been like a forced global detox that has stripped life's glitter leaving exposed the vulnerability and value of life.  Maybe that's a good thing. Maybe that's something to feel thankful for. Life feels raw and uncertain but also miraculous and precious. And most days, the sobriety of it all scares me. I miss the glitter of distraction that let me think that I was in control; that a long life was promised to me; and that happy times were the hallmark of a good life.
While I would not have chosen the trials of this year, I feel strangely grateful for what they have revealed. Underneath the glitter this is what I found:
Control is contrived. Much of life is outside of our control. That's not defeatist; it's liberating. This year has been one of the most difficult and the most freeing. My health issues felt so outside of my control that for my sanity I had to surrender them. Surrendering the big things made it easier to surrender the small things. It's a relief to know I can let things go. I may have more real problems but by giving them over to God, I don't have near as many worries. We can either rely on ourselves and build a teetering house of cards, or we can rely on God and live secure in the foundation of our faith.