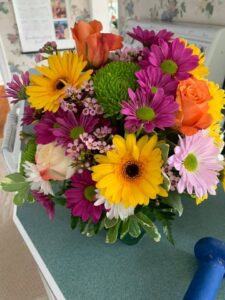 Over the past few weeks, I have been highlighting what I call simple mercies — small things we can do for each other that help us get through a difficult time. The one I want to share today is from my neighbor whose husband recently passed away unexpectedly.  They were a beautiful couple and had been through so much together.
One of the things they enjoyed doing was attending Jacksonville Jaguar football games together. So, I'm sure it was difficult for Bonnie to get a call from the Jaguars asking if she would be buying tickets for the upcoming season. She explained that she wouldn't be renewing their tickets because her husband passed away. I imagine when someone close to you dies you have to have a lot of conversations explaining how life will be different now.
But, I didn't imagine it going any further than that. Neither did Bonnie.  Still, a few days later, flowers showed up at her door expressing condolences. They were from the Jacksonville Jaguars.
When I began this series, I really wanted to show the people to people connection. It wasn't about business or even non-profits but just people serving. And yet, this act of kindness reminds me that businesses are not just entities but groups of individuals who can make a difference through the positions they hold. I don't know who the individual or group of individuals were who decided to send my sweet neighbor flowers but I would want them to know that they could not have sent them to a nicer person. And, even if it only gave her a moment of sweet relief, she is worth that effort.
What I love most about mercy, about stories like these, is that we know they don't end with the act of kindness. Instead, they are like waves of cheering fans: rising, spreading, and lingering long after all has gone quiet. Football or not, that's got to be the best kind of win.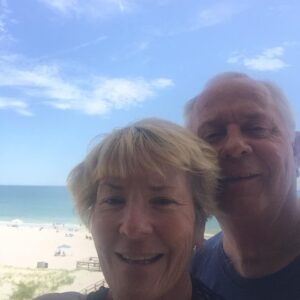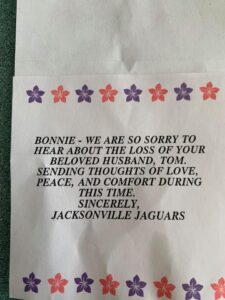 Hi, friends ~ This past Sunday marked a year since I experienced a spontaneous carotid artery dissection in my neck. I often say I was the stereotype of the "healthy person who drops dead." Only by God's mercy and the prayers of so many dear people like you, I didn't die.
These kinds of anniversaries are strange – filled with gratitude, anxiety, and emotion. Sometimes I wish that our hearts healed as completely as our bodies do from injury but it seems like these kinds of traumas sometimes take a little longer.  But they also remind us how much acts of mercy can mean to others.  So for all of you who have gotten me through the last year, who sent up so much as a single prayer, know that I am grateful.  And, I'm more determined than ever to share the mercy you showed me with others. Likewise, I hope you are inspired to keep sharing your compassion with others, I promise it makes all the difference. ~ Love, Lara
If you are interested in reading about how acts of kindness can bring peace, my book, Simple Mercies is available for pre-order now at bit.ly/larabooks or https://www.amazon.com/Simple-Mercies-Works-Mercy-Fulfillment/dp/1681924536/ref=sr_1_2?crid=3F4TVB0MQ94V6&dchild=1&keywords=simple+mercies&qid=1619481953&sprefix=simple+merci%2Caps%2C163&sr=8-2