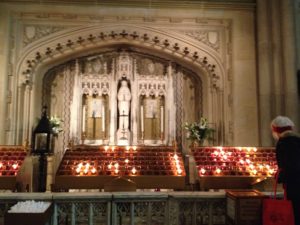 I wasn't going to write about the unconscionable cover-up of sexual abuse in the Catholic Church. I don't have anything nice to say.
I am angry and it feels horribly unnatural to be angry at the church that I love. But the church I love doesn't molest children and certainly would never cover it up and let victims multiply exponentially to maintain a sham of integrity.
Except they did.
It's incongruous with the church I know who serves the poor, feeds the hungry, cares for the sick, educates, and indoctrinates. I have spent much of my life surrounded by Catholics.   Like most Christians, they are people who live consciously, generously, and with a fierce commitment to love and serve others.
Trying to reconcile the beauty of my faith with this grave betrayal feels impossible. Yet, I know that all things are possible with God and I pray for healing. I pray for the victims who were violated, shushed, ignored, and invisible to the church who betrayed them. I pray for those who served on the Pennsylvania grand jury who investigated these atrocities and advocated for their exposure foraging a pathway to justice for victims and a forthright accountability of the Catholic Church. I pray for the many good priests who dedicate their lives to the teachings of the church, who follow the rules, and who imitate the life of Christ in their ministry. I pray for Jesus, whose holiness was shamelessly used to facilitate these crimes. I pray for the grace to move past this. Read more →