Mercy me!  What the heck are works of mercy?
Don't feel bad if you haven't heard of works of mercy.  I didn't know much about them either until they chose me for a mid-life crisis that eventually evolved into a life mission.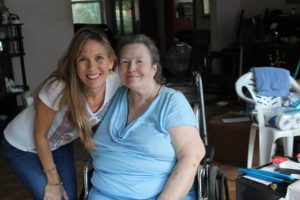 Works of mercy describe ways we can be charitable to others.  They are biblically-based and fundamental tenets of Christianity.  While works of mercy are commonly attributed to the Roman Catholic Church as acts of penance and charity, other faiths teach them as a means of grace.  Regardless of whether you do them as an act of penance, charity, or to experience grace, they are integral to fulfilling the second of the greatest commandments, "You shall love your neighbor as yourself" (Matthew 22:39, NRSV).  God's greatest commandments are to love him above all things and to love our neighbor as ourselves.  One of the best ways we can show our love for God is by showing love to our neighbor.
"I can do things you cannot, you can do things I cannot; Together we can do great things." Saint Teresa of Calcutta.
Corporal Works of Mercy
Corporal works of mercy have to do with our bodies and physical selves.
(1) Feed the hungry.
(2) Give drink to the thirsty.
(3) Clothe the naked.
(4) Shelter the homeless.
(5) Visit those in prison.
(6) Comfort the sick.
(7) Bury the dead.
Spiritual Works of Mercy
Spiritual Works of Mercy have to do with the nourishment of our soul. 
(1) Admonish sinners.
(2) Instruct the uninformed.
(3) Counsel the doubtful.
(4) Comfort the sorrowful.
(5) Be patient with those in error.
(6) Forgive offenses.
(7) Pray for the living and the dead.
Mercy Me!  Why did I spend a year doing works of mercy?
The Holy Spirit made me do it.

That's the only answer I have for committing myself to something I knew so little about.  I was on the cusp of a milestone birthday, the big 4-0. I kept thinking of ways to celebrate: an exotic trip, a blowout party, something really, really, shiny.  All those things sounded so great, except they didn't.

Instead, I incorporated the works of mercy into daily life by embracing an openness to serve. Over the course of a year, I volunteered at the soup kitchen, Florida State Prison, and the homeless shelter. I counseled a woman considering an abortion at the Women's Help Center. I picked up trash with my family on the riverbank, passed out clothes to those in need, and worked alongside women impacted by the sex trade industry. I also helped a Burmese family with the burial of their father after a tragic car accident. I experienced the angst of a silent retreat and the joy of collecting hopeful Bible verses for an 11-year-old girl with leukemia. There was an apprehensive walk down death row to minister to prisoners. Most impactful, was cultivating and practicing mercy in my own life, so that it became an integral part of daily living.

I spent a year, beginning on my 40th birthday, doing all 14 of the corporal and spiritual works of mercy. Despite my lack of religious pedigree, prdinariness, and ignorance, I felt called to do it. The absurdity of it actually made sense to me. Of course, "holy" people could do works of mercy, but could someone desperate for mercy, grace, and forgiveness do them? I answered yes. That had to be the Holy Spirit.  This whole thing is his gig.
I answered yes, and it was both the hardest and best thing I ever did.
I wrote Simple Mercies: How the Works of Mercy Bring Peace and Fulfillment because I wanted to show that our everyday compassion makes a difference in exponential ways. We may not always be able to see how our kindness spreads but knowing our service is pleasing to God can offer a kind of satisfaction that the world cannot sell. The works of mercy aren't just another gimmick. They are game-changers. When I tried these works of mercy as an alternative to the creed of the secular world, I found less striving, less busying, less dissatisfaction, less emptiness, and more time for my relationship with God, my family, and the people I love. Mostly, through God's mercy, I found myself.
I believe whole-heartedly in the power of works of mercy to change the world.  There goodness is unarguable, undeniable, and unequivocal.  Even if you don't believe in God, practicing works of mercy will change your life and the lives of others.  I could give you a money-back guarantee on this if it wasn't so darn free to start with. Yet they are free and priceless at the same time, and they spread exponentially beyond what we see.  How exciting is that?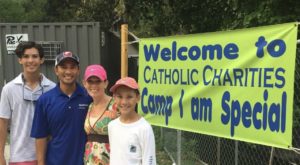 I can't say that it all makes sense to me now, how I became a missionary for mercy.  Sometimes I look back and think, where did this come from?  Who are you?  Why do you want to hang out with homeless people?  Works of mercy, really?
Yes, really, because I truly believe in the infinite capacity they have to make the world a better place.
So, I answered yes, and I hope you will too. 
You can read more on works of mercy here and from the blog here