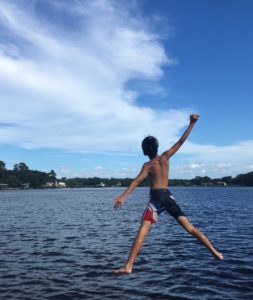 I love the summer.  I stay up too late.  Sleep in too late.  I eat too much watermelon and wear too little makeup.
We are in the thick of the season, or at least the Florida heat is as thick and greasy as the layers of sunscreen I diligently apply so I don't look like the watermelon I so love to eat.  Everyone is hither and yon, in the mountains, at the lake, in camps, and on vacations to places near and far.  Other than a few conversations about summer reading, the dreaded school word is kept outside with the pesky mosquitos.
After the July 4th holiday, I start to get a little panicky about summer's inevitable passing and think of that soap opera, Days of Our Lives, that was popular when smut television was still a novelty.  Before an episode of affairs, amnesia, and bizarre afflictions, a prophetic voice would announce, "Like sand in the hourglass, THESE are the days of our lives."
Whoa. Kind of makes you want to get your act together, doesn't it?
Actually, it doesn't.  It makes me want to pack up my act like a circus performer who has been on the road too long.  It makes me want to enjoy my days.  It makes me want to quit planning, forecasting, and fretting.  It makes me want to step back from my pursuits and spend more time with my people.  It makes me want to let go of all that I can be and just be.  Be enough.  Be loved.  Be unencumbered.
I know mercy doesn't go with summertime the way a salted margarita does, but if there is ever a season to practice compassion toward oneself, it's now.  Generally, we all have a little more time, a little less stress, and a little more flexibility within our routines.  So, use it.  Use every single grain in your hourglass this summer.  Use it to reflect, rest, and renew.  Use it to notice the abundant instead of the overwhelming. Use it like a firefly to emit light in places that have been dark for too long.
Follow the cues of the season and stretch long like a summer day.  Let go of the wave of day to day stress and float on whatever calm you can create.  Let the balm of mercy protect you from rays of negativity that do nothing but burn us out.
Life is generally hard, and right now, it is certainly hot.  Mercy is like a cold glass of lemonade just waiting for you to take a sip and be refreshed.  It's sweet and tart and, while yummy any time of the year, it seems especially so in the summer months when we have a little more time to savor the flavor.
It also goes great with Ella Fitzgerald's iconic song, Summertime, which lyrics remind us:
One of these mornings you're gonna rise up singing
And you'll spread your wings and you'll take to the sky
It's a much gentler reminder of life's brevity than the foreboding voice that warns of sand slipping through the hourglass.  But either way, THESE are the days our lives, and at least for right now, if we choose mercy, it's Summertime and the livin' is easy.
Make it a day you'll never regret.
I am going to take a few weeks off from posting to enjoy the summertime with my family and to practice a little of the mercy I so love to preach.  I hope you find a way to do something to embrace what's left of the season and to also practice some self-care.  What do you plan to do with the grains of sand left in your hourglass this summer?
Miss last week's post?