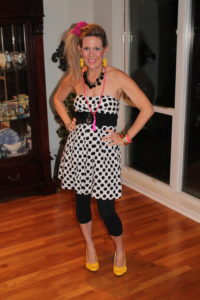 My son's school had an 80s-themed fundraiser a-la Cyndi Lauper's "Girls Just Want to Have Fun," admittedly one of my favorite songs growing up.   But that was four decades ago!  Now I am a middle-aged woman who just wants a nap.  I mean they're pretty fun, too, right?
It's hard to believe that I can count my life in decades now.  I still remember the thrill of turning double digits, the big 1-0.  It was the following year, 1983, that Lauper released the ultimate slumber party song, "They just wanna, they just wanna, oh girls, Girls just wanna have fun." 
In retrospect, I don't know how fun the eighties were for me.  My parents divorced.  I was a latch-key kid living off Stouffer's frozen fettuccine dinners, ice cream bars, and Cool Whip. It was a coming-of-age decade with all the confusion, angst, and acne that accompanies adolescence.
More than having fun, I think what I wanted was to belong.  I felt a little bit like an astronaut floating around in a space suit trying to find my people.  More so, trying to find myself.
I like to think that now that I am in my forties, I am more grounded, and certainly my faith is a huge part of that.  But there are still days that I wonder what I am supposed to be when I grow up, what I am here for, and how to make the most of the time I have left.  While the gravity of those questions should be enough to bring me down, the promise of my faith, of an eternal life with God, keeps me afloat as I search.
I went to the thrift store with two girlfriends to find an outfit befitting the decade with a penchant for legwarmers and leisure suits.  There were no dressing rooms, so we had to try poufy, lacy, neon, garish dresses over our clothes in front of mirrors in the middle aisles of the store.    We were a spectacle worthy of our own music video.
Okay, it was less Robert Palmer and more middle-aged mayhem.  I tried on an orange neon dress with a center slit so high I am pretty sure my son would have been kicked out of school if I wore it, and my friend delighted in finding the absolute ugliest dress I've seen in a long time. Our other girlfriend was like a stage mom, accessorizing us, tucking our post-baby parts into cast-off prom dresses and saying things like, "Oh, the reason you can't find anything is that everything looks good on you."  You have to love a friend that can lie like that!
I didn't find anything that Thursday at the thrift store, but eventually I found something perfectly hideous to wear to the event.  Just like I have faith that I will someday find the answers to the weighty questions I sometimes ask.  If nothing else, I was reminded of how fun the search can be.  And, after all, girls just wanna have fun!
What do you remember most about the eighties?  Are you still searching for the same things you were then?  I am pretty sure all I was searching for was a decent boyfriend.  In retrospect,  I think the meaning of life may just be easier to find!  
Want to watch Cyndi Lauper's video for this iconic song. Want to read more on aging?