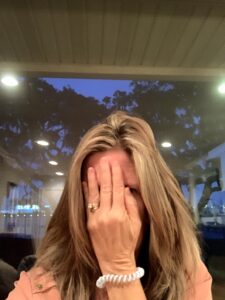 I didn't grow up with social media. I handwrote notes on notebook paper and folded them into small squares to pass to my friends. I took a picture with cameras that didn't make phone calls and it was months before I bothered to get the film developed. I didn't take 10 iterations of the same pose because film was expensive. I just smiled and said "cheese" and that was that.
Fast-forward like an obsolete VCR to thirty years later, and now we can take pictures of ourselves. The "selfie" has become an art form that I imagine an anthropologist in another millennium will discover and muse about our culture's fascination with taking pictures of oneself with puckered lips and wagging tongues.
If I sound cynical, it's only because I'm jealous that I'm not skilled at taking a good selfie. Last summer when I was on a quest to eat as many McDonald's ice cream cones as possible, I took countless selfies with my ice cream in an effort to chronicle the frozen lactose journey that I was sure would eventually have profound meaning. I thought it would be cute and peppy because ice cream is universally appealing – apparently, that is until you put my face next to it. Then it becomes a deranged geometry lesson trying to formulate the precise intersection of the askew angle of my face with the triangular cone where I don't look like an idiot. I didn't have the patience to solve the equation because, for the love of God, I just wanted to eat my ice cream.
So, now I only do selfies when necessary and I usually put my hand over my face or try to superimpose the cat's head over mine to make it more aesthetically pleasing. This still feels cumbersome but I'm much happier with the results. What I realized during my brief selfie sojourn is that looking effortless and spontaneous is not only a lot of work, it can cause us to miss the bigger picture. Read more →