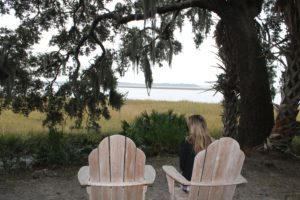 From the time the alarm clock pierces the softness of sleep, we are bombarded with noise.  The daily clamor comes not only from people in our lives, but the technology that pings incessantly and indiscriminately.  Add our inner barking voice, reminding us to do this, be there, and stop that, and it can feel like a cacophony of crazy.
In the racket of the babbling noise that cocoons the day in blasphemous sound, have we become deaf to the voice of God?  "Why do you call me 'Lord, Lord,' and not do what I tell you?" (Luke 6:46) So often, we ask God for help, intercession, and mercy, but we never pause long enough in the grace of silence to let him fill the void.  It's impossible to know his will if we can't distinguish his voice from the commotion that commands our attention.
Jesus doesn't strike me as a big yeller either.  He is the essence of love and love doesn't compete in the shrill of striving.  His message is pretty succinct.  "Jesus replied, 'Love the Lord your God with all your heart and with all your soul and with all your mind.' This is the first and greatest commandment.  And the second is like it, 'Love your neighbor as yourself'" (Mathew 22:37-39).  Our ability to give and receive love is challenged by the surmounting noise that often has little to do with our souls.
Our souls crave the quiet that is God.  Often, when it comes to problem solving and big decisions, we rely on intellect.  Reasons, facts, and logic become the trinity we turn to.  The noise in our head sputters off a list of pros and cons.  We ask friends for advice.  We read books to guide us.  We troubleshoot and play out different scenarios, alternating the variables, and exposing flaws like a crime-scene detective.  Inadvertently, we create more noise for ourselves — obscuring the voice of God with the chatter of our reasoning.  The head talks, talks, and talks.  It means nothing if the heart is pulled toward something different.  Our hearts hold the voice of God.  Without quiet, we will never hear the whisper of his wisdom, the lull of his compassion, or peace of an answered prayer.