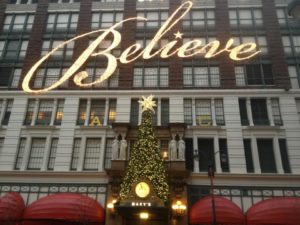 This is an excerpt from my book, Simple Mercies, that I wanted to share in honor of Our Lady of Guadalupe's Feast Day this past Sunday.
During one Christmas season, I was reminded of the power of prayer when I became one of the prayer warriors trying to get a forty-nine-year-old man named Joe out of prison. I know that doesn't conjure the same feelings of drinking hot cocoa in footed pajamas by the fire like your typical Christmas story does. Still, it's a powerful reminder of what can happen when we believe – not only in God but in one another.
As one of six boys, Joe grew up next door to my friend, Cecy. Despite having three young kids at home, she worked for years trying to get her childhood friend out of prison. Joe had been arrested for buying cocaine for personal use and was charged and sentenced as a trafficker. His punishment was twenty years with no chance of parole. He had already served thirteen.
Joe had made appeals all the way to the Florida Supreme Court — each one denied. The only hope he had was clemency from the governor to commute his sentence. That's when the ordinary became extraordinary. Joe was finally granted a clemency hearing. Sadly, his mom passed away less than a month before his hearing. Joe learned of her death from a prison guard and was unable to attend her funeral. The tragedy of it hardly made me think of the word, believe. Yet when his hearing was finally held, I was visiting New York City where over the Macy's store on 34th Street, a huge sign in brilliant white lights said only one word: Believe. While I wasn't sure whether I believed our prayers would be answered in the way that we wanted, I was inspired by the people who believed Joe deserved another chance and did something about it. I had faith that no matter what, God would use the situation for good. I had already seen how many people it had united in prayer and I felt the shared hope that a miracle was possible. I very much wanted to believe. Read more →