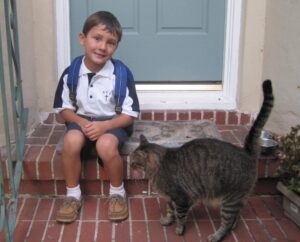 Hi all,
Here's my latest post in the Florida Times-Union.  It includes a little nostalgia about my own school picture day and it's another reminder of the letting go involved in parenting.
This is such a bittersweet stage of parenting. If you are where I am or you've been here — you know. (Or if your mom ever disfigured you with a curling iron — you'll get it too.) Love to you all and prayers for all our young people. ~ Lara
When I was a young girl school picture day was a big deal.  I remember sitting on the corner of my mother's bed with the metal grip of the curling iron searing a pert bounce into the ends of my typically straight hair. It all went well until she curled my bangs. Inevitably, one of us would move and the singe of a horizontal line burned into my pale skin.
Oh, but to be memorialized in the grade school yearbook with perfectly curled-under hair was worth a few days of forehead disfigurement that could easily be covered with a hedge of bangs. I always wished my mom was better at styling hair. Besides her inept ability to curl my hair without risking a plastic surgeon consultation, she could never do fancy braids or even a decent ponytail. She would just tell me to let my hair look natural — that natural was best.
Of course, I didn't want to look natural. I wanted to look like the popular poster I saw of Farah Fawcett with a red one-piece bathing suit stretched across her body so tight that I felt certain if she raised her arms, it would slingshot right off her. She had frosted hair, sun-kissed skin, and a pearly smile. Her flyback haircut made her look like a beautiful bird with wings sprouting out of the sides of her head. And, she didn't have burns on her forehead.
Natural to me was plain. It was a matte finish in a glossy world. I grew up in the boundless patterns of the 70s and the neon geometrics of the 80s. By the time high school came around, I wore blue eyeliner and frosted pink lipstick on picture day.  I traded the curling iron for a perm and instead of curling my bangs under I teased them high using toxic amounts of Aqua Net hairspray.
I recently took my son to get the pinnacle of all school pictures – senior portraits. Those fancy pant photographs where you pose in a cap and gown or wear a tuxedo from the waist up. His usually slouchy posture straightened and it was nice to see his wide smile that I think even Farrah Fawcett would envy. Read more →