Guest post by: Barb Szyszkiewicz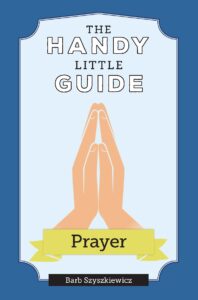 Intercessory prayer is my superpower. I'm not the mystical type, but give me something concrete to do and I'm all set. Is it odd to think of prayer as "something concrete to do"? Not for me. If you're in a crisis and you don't live near here, I'll pray for you. If you live close by, I'll bring you a dinner – and I'll pray for you while I shop for the ingredients, prepare the food, and deliver the meal.
During a crisis, many people find that they have a hard time praying. They know they need the prayers, but they feel like God is far away or not listening – or maybe they haven't connected with God in a while. When someone comes to you and asks for prayer, that is an act of great trust both in you and in God. This is a work of mercy that costs you very little but means so very much to others. By praying for someone in need, you are shouldering their burden right along with them.
Pray for one another, that you may be healed. The fervent prayer of a righteous person is very powerful. (James 5:16)
Whether someone asks you, straight out, to pray for them, or you know they're going through something and in need of your prayers, make sure to pray. Part of the mercy of praying for others is that they know you can be counted on to actually do the praying.
You don't have to use fancy words or come up with something original every time. I don't! I simply use some of the prayers the Church has already offered. A Hail Mary, Glory Be, or Memorare will work just fine.
Follow these three steps to make this work of mercy work for you:
Pray right away. You don't have to pray out loud (maybe that's not your superpower – it's definitely not mine). But don't wait. Pray right away.
And then keep on praying. Find a way to remind yourself to pray. Be intentional about connecting your prayer with something that reminds you of the person for whom you're praying. This is easy to do. Put a picture of them on your phone as the lock screen and pray each time you pick up your phone. Notice cars that look like their car when you're driving on your daily errands, and pray for them when you see one. Carry a rosary in your pocket and pray for them when you notice it there. Pray for them when you pass their favorite coffee shop or their workplace.
Finally, let them know somehow that you're praying for them. A random text or email is all it takes. Reply to a social-media status with the prayer emoji. If you've made a holy hour in the adoration chapel, send a little card to say you've done that.
Barb Szyszkiewicz is a wife, mom of 3 young adults, and a Secular Franciscan. She blogs at FranciscanMom.com. Barb is the editor at CatholicMom.com and the author of The Handy Little Guide to Prayer.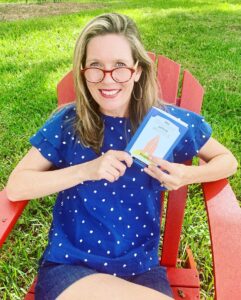 Hi y'all ~ I loved all of Barb's practical suggestions for prayer. I read The Handy Little Guide to Prayer and thought it covered all the important aspects of prayer: what, when, why, how and there's even a chapter on "What if I Get Distracted During Prayer?" (I was happy to know I am not the only one!) Often, we don't think of prayer as a work of mercy, yet it's such an important service we can do for others. I have written for Catholic Mom's Blog for years, and when I had a medical issue last year, I told Barb, and she prayed for me every day. She even mailed me some prayer cards and I was so touched by her kindness and so comforted to know she was praying for me. So, if you want to do a simple mercy today, lift someone in prayer. It's a work of mercy because it works. ~love, Lara
P.S. ~ THIS SATURDAY at 7 p.m. at Assumption Catholic Church is my talk on "How the Works of Mercy Bring Peace." It will be fun because I will be there and whose more fun than a girl that writes about mercy?! RSVP at  https://www.sanmarcobooksandmore.com/event/lara-patangan-speaking-event-book-signing