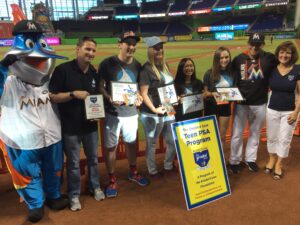 Nancy Sebastian has spent much of her life working to keep children safe. This is how Nancy does mercy:
"Sharing what we know about personal safety with the children we love is an act of mercy that can save a life. It's as easy as teaching a child to cross the street. Children who recognize red flags and know circumstances to avoid will be safer. The same is true for teens. In addition, teens dealing with depression and anxiety are now at an all-time high. Showing concern and kindness can make a huge difference to them.
Everyone wants to know they matter.
I feel very blessed throughout my life to have been able to empower children and teens to protect themselves and their peers from harm and live safer, happier lives. As a mother, teacher, school counselor, and now Executive Director of the KinderVision Foundation for the past 27 years, my journey has been one of amazing grace and awesome miracles, both personally and professionally, with the well-being of young people always a priority.
KinderVision began in 1991 as the result of the abduction and murder of a 7-year-old little girl. Her case remains unsolved. We wanted to prevent future tragedies so we created a video with personal safety tips for young children in English and Spanish narrated by an 8-year-old little girl and a police officer. We personalized our safety video by recording the child on the end to encourage viewing. Hundreds of thousands of children have benefited from that program. It is now digital and the safety tips can be found at www.KVKids.org.
Ten years ago law enforcement asked us to create a program for teens, the age group most at risk for victimization. The Greatest Save Teen PSA (Public Service Announcement) Program was our response. In this peer-to-peer personal safety program, teens choose any topic on teen victimization, research it, and create a 30-second video message for their peers. The messages are then organized by topics and used by schools across the country to raise awareness, engage students in discussions about personal safety, and end teen victimization. Read more →