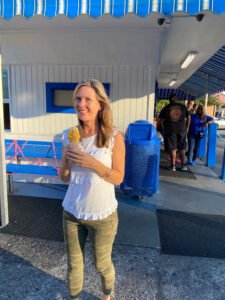 I've tried to have a good attitude about the necessary sacrifices of living during a pandemic. I considered mask-wearing a clever and inexpensive way to hide wrinkles, with the added benefit of no longer worrying about whether bits of salad were caught in my teeth. I pretended my stint at homeschooling was like a long (albeit dysfunctional) episode of Little House on the Prairie. I put away the Pinterest worthy tchotchkes on the desk so my now work-from-home husband can actually use it. I've done the FaceTime happy hour, the social distanced visits in the sweltering back yard, and the scavenger hunt for mundanities like toilet paper, disinfectant, and flour. But when I went through the McDonalds drive-thru and was told that they are currently not serving ice cream cones because of COVID-19, I was done. I tried to keep the hysteria out of my voice when I asked the cashier what the who-ha she was talking about. No ice cream cones?
I don't want to get off on a tangent of how I am not sure if I want to live in a world without ice cream cones. And, I don't want to debate anyone about the COVID germs lurking on the paper-wrapped cone that McDonald's altruistically saved me from (or how I typically remove the paper before consuming the cone). I get it. Everyone is doing their best in this madness. We are all trying to be tolerant, make lemonade with this bushel of lemons, find the joy in the simple things, remember what's important, and otherwise paint sunshine and roses over the choked vines of 2020.
But sometimes all of the 'not that big of a deal in the whole scheme of things' concessions we make leave me melting like ice cream on a hot summer day. Only now, I have to melt in a cup. I know if Jesus is reading this post he's likely to put his head in his hands while wondering how he is going to save my whiny soul. And while a vat of self-serve ice cream seems like an obvious solution, I know that what will save me is the same thing that leaves me grateful despite the wonky and worrisome year it has been – his mercy.
One of the reasons that I write about mercy is because I know it's the small things that we do for one another that often mean the most. It's easy to think life is about the right job, the fancy house, or the latest trends. But those things don't mean much when we are going through a difficult time. Instead, it's the mercy of someone holding the door for you when your hands are full; giving you the benefit of the doubt when you've said something that would be easy to misconstrue; receiving forgiveness for something hurtful, and being listened to compassionately when you share your worries with others. Those are the kinds of things that make a difference – that remind us how important it is that we love our neighbor. Small mercies offer relief when we are tired, overwhelmed, overburdened, and over all the wonky and weird that has become our new reality. The simple mercy of remembering that we belong to each other is a light no matter how dark the times. So, let your light shine with warm and radiant acts of kindness towards others. They are even better than ice cream.
Hi all~ It has been a difficult year for most of us. We've all been asked to sacrifice a great many things — mostly cherished time with the people we love. We can all use a little more kindness right now. I am trying to be mindful of that during the hustle and bustle of this season. Acts of compassion are the best gifts to give —  and to get. How will you share mercy this advent? ~ love, Lara
Read more: Gratitude: Beyond the Glitter